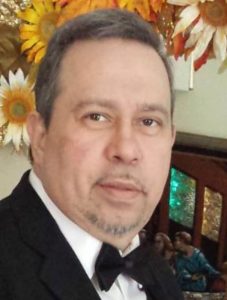 A chef by training and a musician by heart, Manuel Baez is the embodiment of the cleverness, adaptability and dexterity you look in a percussionist. He is a member of Forest City SDA Church and part of their praise team program.
We have the pleasure of having his talents in the worship service of Sabbath Strings.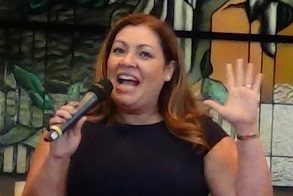 Etty Martinez was born in the tropical island of Puerto Rico. Her family moved to Massachusetts when Etty was only 11 months old. She was raised in a musical family and was singing specials at church by the age of 5 years. Etty moved to Florida at the age of 10 years and started singing in the Casselberry Spanish Seventh Day Adventist church at the tender age of 11 years. She continued to sing with the choir through all of her teen years and into adulthood. Etty received voice lessons while a student at Forest Lake Academy.
At the age of 18 years, she joined a Spanish Christian group called Nueva Creacion under the leadership of Dr. Osvaldo Garcia. Dr. Garcia was also the choir director for many years and he was instrumental in helping her develop her talent. Etty recorded a CD with Nueva Creacion and sang at churches throughout the state of Florida. Etty has sung with other choirs, groups, quartets, including a women's quartet.
Etty graduated with a Master's in Social Work from the University of Central Florida. She has been blessed to be able to incorporate music as part of her therapy sessions. She has been married over 20 years to her childhood sweetheart and their union has been blessed with 2 daughte
rs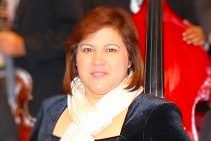 The middle sister of the well-known Capote sisters' trio, Lydia Esther Capote-Roque is the adaptable, full 2 ½ octaves range, all reliable and sweet singing voice that every musical group would like to have.
Born in Tacoma Park, MD in 1968, in the home of Pastor Carlos Capote and Luisa M. Agostini she was taught, since her early years, to give all her talents to God, and she has done exactly that.
From the Kerysso group in the 1980s, CFC arts, One Mission, Beloved, Sabbath Strings, singing backup for her sister's recordings and soloist in multiple activities and ensembles, she has been a blessing as an ensemble singer as well as a soloist.
Married for 21 years she is the proud mom of 2 daughters, 2 step children and 4 grandchildren.
We have the pleasure of having her talents in the worship service of Sabbath Strings.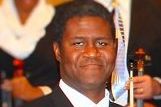 Roy Brown, Jr. was born in Jamaica, NY into a family who has dedicated their lives to the service of God. From a young age he was taught to present his gifts and talents to the Lord as an offering.
Growing up in Orlando he had the privilege of singing with Mt. Sinai's youth choir, including on the album they were blessed enough to produce. In college he sang with the Oakwood College Choir under the direction of Dr. E. Osterman which allowed him the opportunity to spread the good news during the 1990 GC session in Indianapolis, Indiana.
After moving to California for graduate school he was able to join the gospel choir "Another Peace", allowing him another outlet to share the Word of Christ in song. Highlights of his time with these talented group of voices included being able to share the stage with such award winning artists as Kurt Carr, Take 6, and Chaka Khan. Singing at the Crystal Cathedral as well as presenting the National Anthem at the occasional LA Clipper game was also a blessing he will never forget.
Roy thanks God that with Sabbath Strings and Voices, he has been given another wonderful outlet with which to share the love of Christ.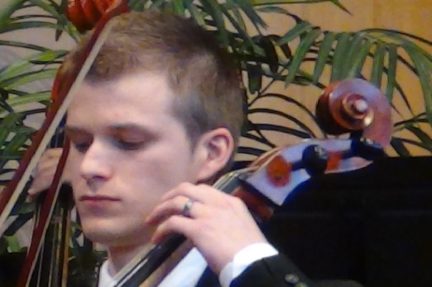 Cameron was born in Thousand Oaks, California in 1988. In 1993, his family moved to Central Florida, which since then has become his home base.
He comes from a family where music was an important part of life, as his father plays piano and cello, his sister plays the piano and organ, and his brother plays piano, cello, and guitar. Cameron's musical journey began at the age of 7 when he began taking piano lessons and the age of 9, he decided to take up the cello and began playing with the Forest Lake Education Center string orchestra.
Cameron continued taking cello lessons until 2005, during his junior year in high school. In addition, he played in the Forest Lake Academy string ensemble from 2003-2007, and played in the Southern Adventist University symphony orchestra for from 2007-2009, including a European tour to the Netherlands and Germany in 2008.
He served as a student missionary from October 2009 to May 2010 in Ethiopia as a music teacher for middle-school aged students. Upon return to the United States, he resumed his study of civil engineering and received his Bachelor of Science in Civil Engineering from Walla Walla University in 2013 and his Masters of Science in Water Resources Engineering from University of Central Florida in 2015. Cameron currently works as a project engineer for Donald W. McIntosh Associates.
After a 5 year hiatus, during which he finished school and got married, Cameron is thrilled to be playing regularly again and to have the opportunity to praise God doing so with Sabbath's Strings.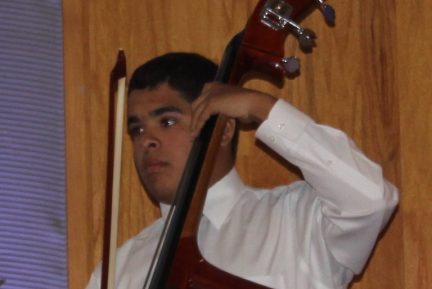 Frankie was born in Fajardo, Puerto Rico. He began studying music at the age of 14 under Mrs. Andrea Tobin during middle school. Presently he is studying under Professor Carvajal.
Frankie has been a member of the Piedmont Middle School and Wekiva High School Orchestra. As a member of the Wekiva High School orchestra he had the opportunity of participating at the Music Performance Assessment (MPA) where the orchestra won the medal of Superior Category in a competition of the Orange County Public Schools Orchestras. In 2012, Frankie participated in the Solo and Ensemble category where he obtained the Superior Medal for Excellency in Tone, Quality and, Rhythm.
Frankie also uses his talent to praise God as he performs with Forest City SDA church orchestra and with Sabbath Strings.
Frankie thanks God for all the blessings and talents he has been given at his young age and hopes to continue his musical career praising and glorifying His name.

Cheryl was born in Michigan, but grew up in Tennessee, where she started Suzuki violin lessons at age 10 with Orlo Gilbert at Southern Missionary College (Now SAU). Soon enough she started playing solos for church and played in a quartet in 8th grade. Eventually she continued her education and music lessons on SMC, where she had the opportunity of been a member of the SMC Orchestra all through academy and college. With this orchestra she traveled to Australia, New Zealand, and Fiji, playing under the direction of Orlo Gilbert.
She has a BS in Nursing from SAU and has work as a nurse in the Orlando area.
She is a proud mom of 3 adult children, a son and two daughters.
She is a member of the Maitland Symphony Orchestra for 7 years and we have the privilege to have her services now at Sabbath Strings.
Eliezer was born in Santa Clara, Las Villas, Cuba in 1964. His musical education started at 7 years old, with Prof. Ramona Arroyo and later with Prof. Rene de los Rios.
Soon after he became a student of Maestro Adolfo Guimbarda, Concert Master of "Santa Clara Symphony Orchestra". At 19 he auditions and becomes a member of that orchestra. His academic education took place in "Marcelo Salado" and "Captain Roberto Rodriguez", two institutes in the same area.
Because of the political environment in the island and his decision not to be a member of the Communist Party, his opportunity to study in the universities were restricted.
In 1993, upon his arrival to the United States, he became a member of the "Ars de Chiesa" Orchestra and part of other musical ensembles in the Orlando area where he established his residence.
Eliezer is a businessman and entrepreneur in the printing industry with ample experience in the field.
He lives in Apopka with his wife, and is a proud father of four kids, two of them adults and two young ones.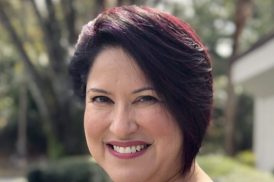 Marisssa Rosado, Capote, the older sister of the well-known Capote sisters' trio, Marissa is the accomplished soloist of the sister squad. Daughter of Pastor Carlos Capote and Luisa M. Agostini she was born and raised in San Juan, Puerto Rico. Like all her siblings, she was taught, since her early years, to give all her talents to God, and she has gone above and beyond on that objective.
She has been a member of musical groups like; "Voces y Cuerdas de Sion", "Kerysso" "CFC Arts". A recording artist and soloist for well know ministries;"La Voz de la Esperanza", "Escrito Esta". As a leader of praise and worship in various churches, her music gift has provide comfort and faith support to many.
Alongside of her now deceased husband, Dr. Pedro J. Martinez, they founded two medical practices focused on the management and care of diabetes. For 24 years they were a source of spiritual support and health services to the community.
After 30 years of marriage her husband passed away in 2017, an event than motives her to move to Florida from Arizona, the place she had called home for the past 26 years.
In November 17, 2019 she happily married our Sabbath Strings director Sabdiasep Rosado. She is the proud mom of two sons and two loving grandchildren.
We have the honor of having her talents in the worship service of Sabbath Strings and for that we are grateful.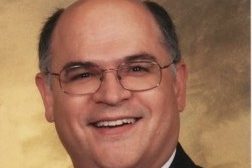 Sabdiasep or Sabbath Day Seventh in Spanish. (Sab=Sabado, dia=dia, sep=séptimo)
Borned in Humacao, Puerto Rico in 1961, now residing in Orange City. He is a graduate of Universidad Adventista de las Antillas with a B.A. in Music Education. In addition he has some graduate studies from the Advanced Study Center of Puerto Rico and the Caribbean and musical training from Riverside Community College in Riverside, California.
He served as a music teacher for 7 years in the Puerto Rico Public School System and has been Music Minister for Churches in California and Florida.
The piano is his principal instrument but he enjoys playing other instruments as well, especially his new love, the euphonium.
Sabdi works as a MIM technician for FloMet LLC in DeLand.
He is the musical director of Ars de Chiesa Orchestra & Program and is a chart member of Advent Brass Ensemble.